ST. JUNIPERO WITH HOE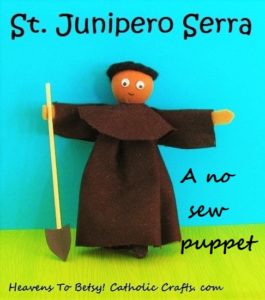 You will be surprised how easy it is to make this figure of St. Junipero! No sewing or painting is required! His tonsure is made from a strip of black or dark brown yarn. Follow the photo directions below to make the body and head of the puppet.
His head is made from a styrofoam ball. The skin colour? It's not paint! It's made by stretching a scrap of panti-hose over the ball and securing it with wire or a pipe cleaner. His collar is a 2″(5cm) circle which is cut in half. Make a small indentation for the neck and glue the collar to the robe. (Note: you use only one half of the circle.)
The robe is made from a piece of fabric 3.5″(9cm) x 8″(20cm). Finger-pleat the robe and arrange it around the "neck" of the puppet. Tie securely with yarn or string. Glue in place. Glue the robe in place at the back. The sleeves are made from a piece of fabric 4.5″(11.5cm) x 2″ (5cm). Tiny felt hands are inserted into the sleeves before the two long sides are glued together. The hoe is made from a wooden skewer.