ST. GIANNA MOLLA, DOCTOR (spoon puppet)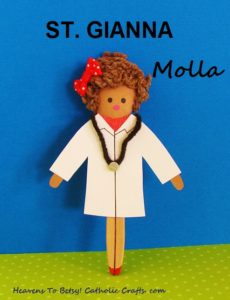 Make a quick and easy spoon puppet of St. Gianna. Just glue on her doctor's lab coat (to a plastic spoon) and make a stethoscope. Directions for her curly hair are included in the photo directions. Don't you love her red shoes?
SPOON PUPPET:
1. Paint the head and legs of the spoon in a skin colour.
2. Print out the coat and cut out.
3. Glue the coat (the pattern is below) to the head of the figure, slightly above "chin level" so that the face will be in proportion to the rest of the figure. Paint the part under the coat (the blouse) before you glue on the coat.
4. Add facial features and yarn hair. Her hair could also be painted on.
TO MAKE HER CURLY HAIR:
 Wind yarn many times around a pencil. Soak it for a few minutes, let dry and remove the yarn from the pencil. Result: curly hair to glue on your figure! Press the curls tightly together and glue to the head.
TO MAKE THE STETHOSCOPE:
Take a length of black yarn and brush over it a diluted mixture of white glue and water. While still damp, form it into the shape you see in the above photograph. Let dry. Glue the ends to the back of the figure. Glue a small silver circle to the stethoscope.