ST. GIANNA AND BABY GOING SHOPPING
St. Gianna Molla is one of our newest saints. But did you know that she was also somewhat of a fashionista?  This devout Catholic mother, wife and pediatrician also liked to keep up with the latest fashions! How do you like her matching sweater and toque? They match her A-line skirt—very fashionable in the 1960's. St. Gianna died in 1962 after giving up her own life to save the life of her unborn baby.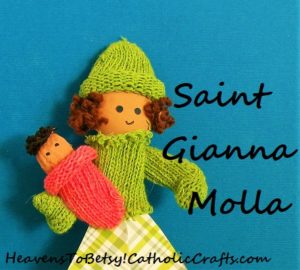 ST. GIANNA AND BABY GOING SHOPPING:
If you have an old glove hanging around the house you are halfway there to make St. Gianna's sweater and toque! Follow the photo directions to see how easy it is to make this stylish outfit!
1. Make the figure from a plastic spoon and a popsicle stick as shown in the photo directions. The popsicle stick makes the second leg. To make St. Gianna's curly hair, wind yarn several times around a pencil. Soak in water for a few minutes. Let dry overnight. When you remove the yarn from the pencil you will have lots of curls! Glue to the head of the puppet. "Smush" them close together for tighter curls. To make it even easier you can paint on the hair.
2. Follow the photo directions to make the sweater, toque and mitts (the mitts are actually formed from the cuffs.) To make the body of the sweater you cut off both ends of the fingertip!
3. The baby is made from a peanut—you could also use a wooden bead or any tiny round object. The baby bunting is made from a fingertip of a glove. A cuff is rolled up and the baby fits inside the bunting.
4. To make her skirt: cut out the pattern and make a vertical crease down the middle. Thus, an A-line Sixties-style skirt! Glue on to the figure under the sweater.
NOTE: Although not photographed, the legs of St. Gianna are painted green to look like leotards! She looks very smart in her green sweater and toque and leotards to match!
Follow the photo directions to make the puppet of St. Gianna and her baby.