ST. DAMIEN, DIORAMA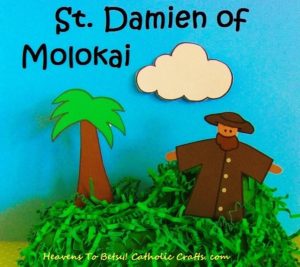 DAMIEN: DIORAMA
The figure of Father Damien is made from an ice-cream spoon. A toothpick taped to his back (and extending below the hem of his robe) enables him to be inserted into the setting. He can also be moved around in different positions. The diorama is made from a foam meat tray.
TO MAKE THE BASE:
1. Paint an upturned meat tray green.
2. Smear the surface with glue. Sprinkle on cut "grass."
TO MAKE FATHER DAMIEN:
1. Print out the pattern for his robe, hat and beard. Colour and cut out.
2. Paint the ice-cream stick "face." Glue on a beard. You can also leave the face unpainted. Add felt pen facial features.
3. Glue the robe to the body.
4. Cut out a slit in the hat and insert the hat through this slot to fit over the head. Use the photo as a guide.
5. Tape a toothpick to the back of the figure of Father Damien.
TO MAKE THE PALM TREE:
1. Print out, colour and cut out the palm tree.
2. Tape a toothpick to the back of the tree, extending below its base.
3. The palm tree can now be inserted into the foam base to complete the scene.