MOTHER TERESA WITH DOMED HEAD: TOILET ROLL FIGURE
Make a figure of Mother Teresa from a toilet paper roll and a scrap of white felt. The mystery ingredient??? A plastic Easter egg (glued to the paper roll) forms her head! Painted white it looks a part of her habit!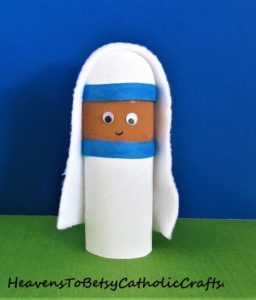 MOTHER TERESA TOILET PAPER ROLL FIGURE
Her head is made from a plastic Easter egg! It is easily made by gluing it to a toilet paper roll.
1. Paint the roll and face.
2. Paint the Easter egg half white. (You will use the rounded half)
3. Glue the egg half to the top of the roll.
4. Cover the seam with a strip of blue paper or ribbon as shown in the photo.
5. To make a veil, cut a strip of fleece or felt 10.5″(27cm) x 2″(5cm).. Glue to the top of the head.
6. Decorate the face as you wish.