KATERI IN DOMED HEAD T.P. ROLL FIGURE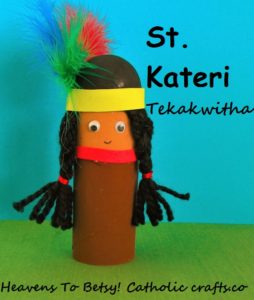 KATERI TOILET PAPER ROLL FIGURE
St. Kateri's domed head is made from a plastic Easter egg half! It is glued to the toilet paper roll to form part of her hairdo. Use the rounded (not the pointed) end of the Easter egg.
1. Paint the Easter egg half  black.
2. Paint the toilet paper roll (face and dress).
3. Make hair for St. Kateri: older children will enjoy making braids from black yarn. Younger children could make strips of paper. If you curl up the ends of the paper strips with scissors, they will flip up slightly, and add an interesting look to her hairdo!
4. In either case the hair should be glued inside the hairband first, before it is glued to the head.
5. Glue the dome of the head to the toilet paper roll.
6. Add the headband to cover the seam.
7. Decorate the figure to look like St. Kateri!