BLESSED GIORGIO FRASSATI: SKIER
Blessed Giorgio was an avid skier! His skiis are made from popsicle sticks and his sweater and toque couldn't be easier—they are made from the finger-tips of a glove! Just cut out one finger-tip, fit it over the head and presto—a toque! Another finger-tip fits over the spoon and becomes the body of the sweater.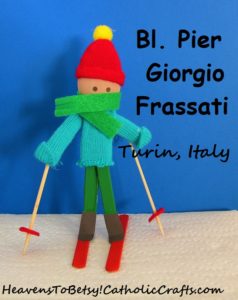 To make Blessed Giorgio, follow the basic photo directions of how to make a spoon doll.
1. Paint the legs the desired colour. These will be the ski pants!
2. To make the body of the sweater, cut off a finger-tip from the glove. Cut off the top part of the finger-tip as well. Slide this over the "body" of the doll (the handle of the spoon). Roll down a cuff. Glue the sweater to the spoon handle.
3. To make the sweater sleeves: cut off two finger-tips. Roll them up the long way and glue the long edges together as shown in the photo.
4. Glue the sleeves to the back of the doll.
5. The toque is super-easy! Cut off a finger-tip and fit it over the head. A cuff will form on the toque. Glue on a pompom.
6. The scarf is made form a strip of felt with fringed edges.
NOTE: To make the second leg glue on a popsicle stick to the spoon handle as shown in the photograph below.
TO MAKE THE SKIIS AND POLES:
1. Paint the popsicle stick "skiis."
2. The ski poles are wooden skewers (from the Dollar Store) pierced with small felt circles.
3. To make the ski boots: cut out 2 tiny rectangles. Round the ends. Fold down a small part from the end and glue this piece flat to the skis as shown in the photo.