ST. MARIANNE COPE: A No-Sew Puppet
Make this adorable no-sew puppet. It is so easy and quick to make! The body and head are made from a popsicle stick and a small styrofoam ball. The robe and veil are glued on. The photos below show the process of making the body of the puppet.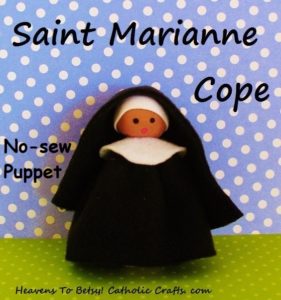 1. To make the robe cut fabric 8.5″(21.5cm) x 3"(8cm). Using your fingers gather fabric to fit around the "neckline" of the puppet. Tie securely around the neck with yarn or string. Glue in place.
2. To make the white collar cut a felt circle 2″(5cm) in diameter. Cut in half and glue to the robe, as you fit it around the neck. Note: You will only need the one half of the circle. You can cut a small indented circle at the middle so it fits around the neck neatly.
3. To make the veil, cut fabric 5.5"(13cm)x 2.5"(6.5cm).
4. At the centre-point of the strip of fabric, glue to the crown of the head as in the photograph.
TO FORM THE NUN'S WHITE HEADPIECE:
1. From a small scrap of white t-shirt material, cut a strip large enough to fit around the head.
2. Stretch it very firmly around the head and glue in place with the ends at the back. Cut off the excess.
NOTE: If you use the hem of the t-shirt you won't need to fold the edges under. And it makes for a nice neat edge!