ST. KATERI ROUND PLATE FACE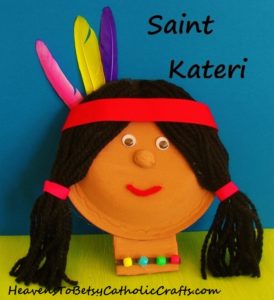 KATERI ON FOAM PLATE:
Kateri's face is a 6″ foam plate.  Her hair is done in a new, fun way! Instead of gluing on the strands, you "punch" them into the foam base. Easy and no messy gluing!
HOW TO MAKE ST. KATERI:
1. Paint a foam plate. Her nose is a tiny pebble painted to match the face. Her mouth is made from a small piece of red yarn. A strip of paper could be used as well.
2. Her neck is a small piece of cardboard, glued to the back. Add a bead necklace.
3. To make the hair, cut several strands of dark-coloured yarn twice the desired length. Fold each strand in half. Next: take a doubled strand of yarn and "punch" the MIDDLE of the strand into the foam with the end of a pen or pencil. If any breaks appear on the plate, don't worry! Just paint them over with paint to match the yarn and put tape at the back. Begin "punching" in the hair at the centre-part.
4. Add a coloured head-band and feathers.