ST. KATERI BOOKMARK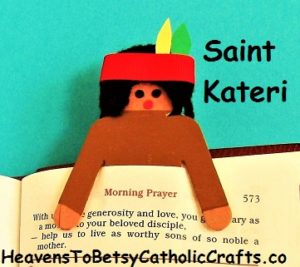 BOOKMARK: STICK-PEOPLE
This is a super-quick bookmark to make. It is made from the wooden "stick-people" doll available in craft stores.
1. Paint the bookmark.
2. Add yarn hair and googly eyes or facial features of your choosing.
3. The arms extend over the pages of the book, forming the bookmark.
4. NOTE: It is necessary to use the boy doll as his arms are longer than the girl's.