ST. JOHN 23RD IN HIS RED SATURNO HAT
Make this figure of Pope St. John 23rd from a toilet paper roll! His hat can be made in two ways: one, from a plastic Easter egg (VERY VERY EASY) or from the directions below (on how to make a felt hat—it is very easy too but requires a little more preparation—but very fun to do!)
His nose is a tiny pebble (or a tiny dried pea). And how do you like his signature red shoes?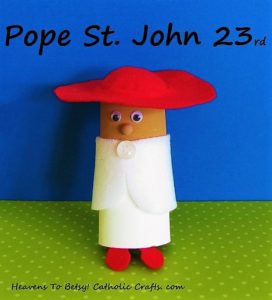 T
HOW TO MAKE THE FIGURE OF POPE ST. JOHN 23rd
1. Paint the toilet paper roll using the photo as a guide.
2. To make the cape: Cut out a strip of felt 6″ (15cm) x 1.5″(4cm). Round off the front edges. Glue to the roll. Add a nose (a dried pea!) and eyes. His shoes are red felt ovals.
MAKING A SATURNO HAT: (USE THE PHOTO INSTRUCTIONS BELOW)
1. Begin with a felt circle 4″ (10cm).
2. To make the donut shape: place the toilet paper roll in the centre of the circle. Trace around it to make the smaller inside circle. Cut just inside this outline so that the hole is smaller than the actual traced outline. You want a tight fit when the donut shape (the brim of the hat) is placed over the felt-covered mould (which will be the crown of the hat).
3. Follow the photo directions to complete the hat.
NOTE: make the play-dough mould the size you want your finished hat (the crown part) to be.
HOW TO MAKE A SATURNO HAT FROM AN EASTER EGG:
The Saturno hat is made in the same way as a sombrero but it uses the rounded part of the plastic Easter egg instead of the more pointed end.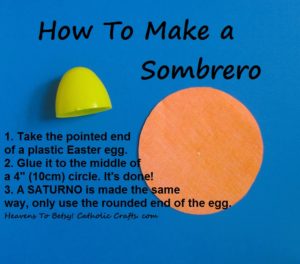 TO MAKE A SATURNO HAT FROM FELT: