MEXICAN PAPA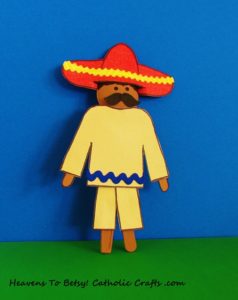 HOW TO MAKE THE MEXICAN PAPA:
This is a very easy technique to make a doll with two legs (wearing pants!)
1. Glue a popsicle stick to the back (or front) of the spoon as shown in the photo. This is the second leg.
2. Paint the face and the feet of the spoon doll. Add facial features and hair.
3. Print out the pattern for the tunic, colour and cut out.
4. To form the pant legs, cut out 2 pieces of paper .75″(1.5cm) x 1.5″(4cm)
5. Glue the pant legs to the legs of the doll as shown in the photo.
6. Glue the tunic to the spoon face. NOTE: Place the robe a bit higher than chin level so that the face will be in proper proportion to the figure. The tunic will cover the upper part of the pant legs. Don't forget the mustache!
TO MAKE THE SOMBRERO:
Colour and cut out the pattern. Decorate it.
Cut a slit in the hat (as shown in the photograph) so that the head can be inserted into the hat. Some spoons vary in size so that is why there is no slit drawn on the pattern!